Bhagavad Gita Series
DefaultTag
Episodes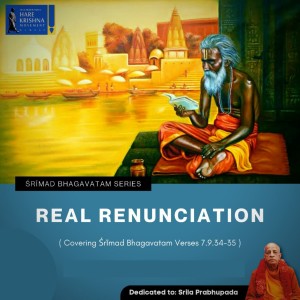 Saturday Jun 25, 2022
Saturday Jun 25, 2022
When we talk about Bhagavad Gita, we often hear this word "Renunciation". General understanding of Renunciation is to give up one's property, wealth, belongings etc. That is why many people shun away from Bhagavad Gita considering they have to leave everything in order to understand Gita. Srila Rūpa Gosvāmī one of the foremost Vaishnava Acharya talks about the real understanding of renunciation. One need not to give up his property, wealth, belongings etc. but he should give up only ONE THING.Lets us understand:What is Real Renunciation?What is that "One Thing" one should renounce?Do I need to leave everything in order to understand Bhagavad Gita?
Sunday Jul 10, 2022
Sunday Jul 10, 2022
The Supreme Personality of Godhead, Lord Krishna, is known as Triyuga, which means that He is manifest in three yugas. But we have heard there are four yugas. What about the fourth one? Does the Lord not appear in Kali Yuga? Who will deliver people of Kali Yuga? Actually in the Age of Kali the Lord appears not directly but in disguise. Because the Lord is not directly perceived in Kali-yuga but is directly known in the other three yugas, His name is Triyuga. Let us understand more about this covered incarnation of the Lord.
Wednesday Aug 03, 2022
Wednesday Aug 03, 2022
The vigraha, the Deity of Kṛṣṇa, appears by Kṛṣṇa's mercy. Because Kṛṣṇa is alakṣya, invisible, He becomes visible to give us the facility to see Him. It is not that Kṛṣṇa is stone, wood, or metal. Kṛṣṇa is always Kṛṣṇa, but because we cannot see anything beyond material elements like wood, stone, and metal, He appears one in a form made of these elements. Kṛṣṇa is everything, and therefore Kṛṣṇa is stone also, but He is not the kind of stone that cannot act. One should not think deity as stone. Svayam eva sphuraty adaḥ. The Deity, although apparently stone, may speak with a devotee. There are many instances in which this has happened where so-called stone has spoken, walked and even STOLEN for his devotees. Let us understand one such pastime of the Lord.